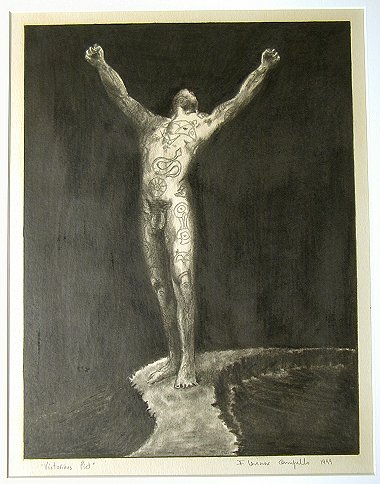 "Victorious Pict"
Share in my vision of what a Pictish warrior may have looked like two thousand years ago. Drunk with victory over a Roman, Scot, Viking, Angle or Briton foe. I intend to have a limited edition of 100 signed and numbered prints made from this drawing. The prints were made via the Iris, Gyclee method, and printed on heavy, pH-balanced, acid free, museum paper. All prints come with a Certificate of Authenticity signed by the artist, which will guarantee provenance and the fact that only one edition of this drawing was made. The size of the print was approximately 24" by 20." The entire edition of 100 has been sold out.
Title: "Victorious Pict"
Size: 24 " x 20"
Edition: 100
COMPLETELY SOLD OUT! A new drawing and a new limited edition will be available soon! Price:
Numbers 1-50: $350
Numbers 51-75: $500
Numbers 76-90: $700
Numbers 91-100: $1000
How to order: Email me by clicking the icon

or call the Fraser Gallery in Washington, DC at 301/718-9651 to place an order. Visa, AMEX and Mastercard accepted.